Animated 'infinity' Logo
The existing Pacifico 'infinity' logo was retained, but brought to life more effectively through a dynamic, animated version, that better reflects Pacifico's dynamic & progressive brand proposition. This new animated logo communicates Pacifico's efficiencies & readiness to transform the worlds energy supply, by developing, managing & optimising clean energy assets.
Visual Brand Language
The redesign of the Pacifico brand identity included the addition of a new secondary asset created from the shapes formed within the infinity symbol. These overlapping, fluid forms use subtle gradients to converge in creating a sense of movement, efficiency, adaptability & performance. These abstract shapes offer the design a highly abstract, yet conceptual representation of clean energy generation processes.
Colour Palette
The enhanced new colour palette offered a strong sense of positive & inspiring emotion to the design of the brand identity. The confident use of clean white space helped to balance the range of vibrant natural green shades, along with a subtle highlight of orange to accentuate certain elements of the design.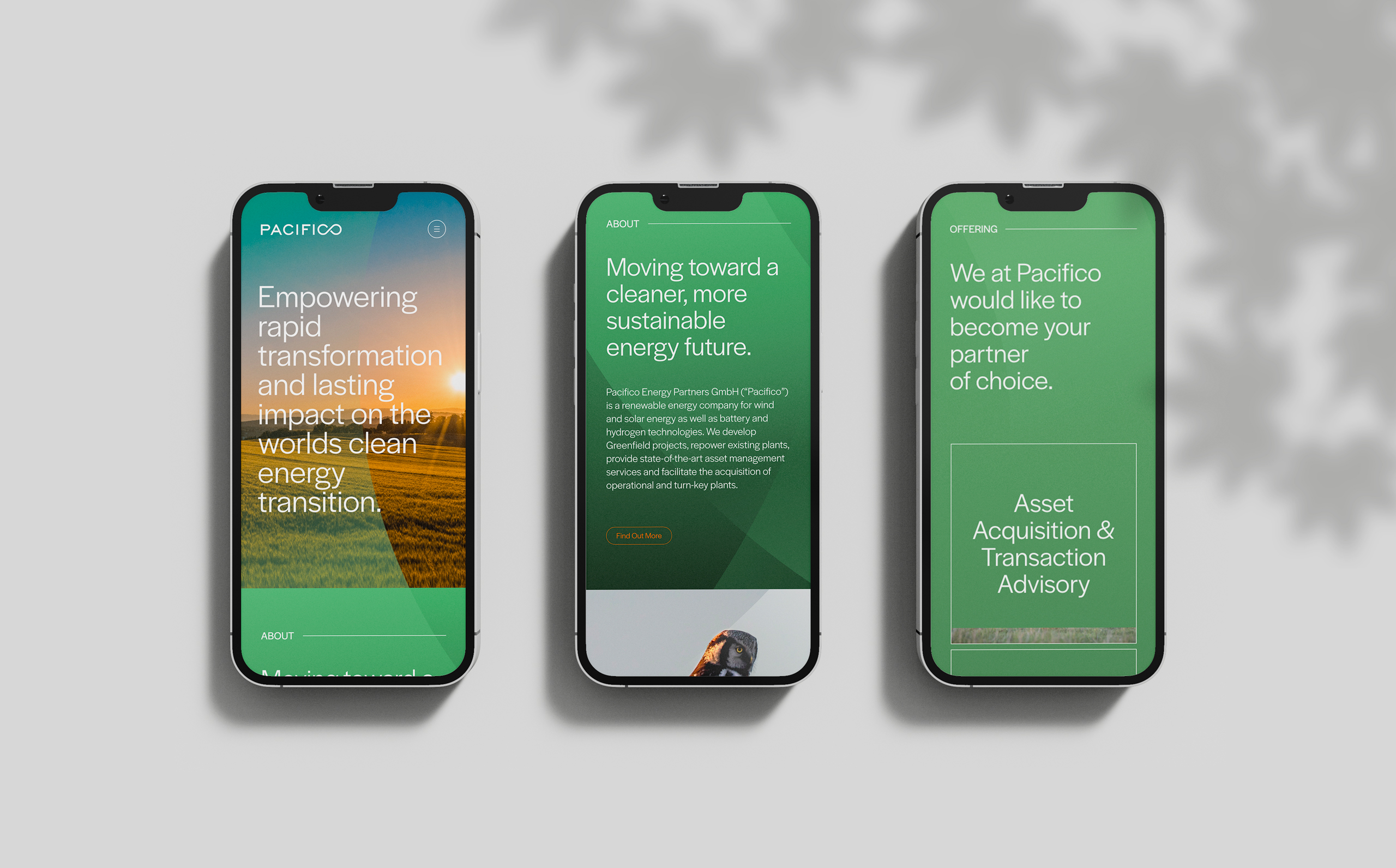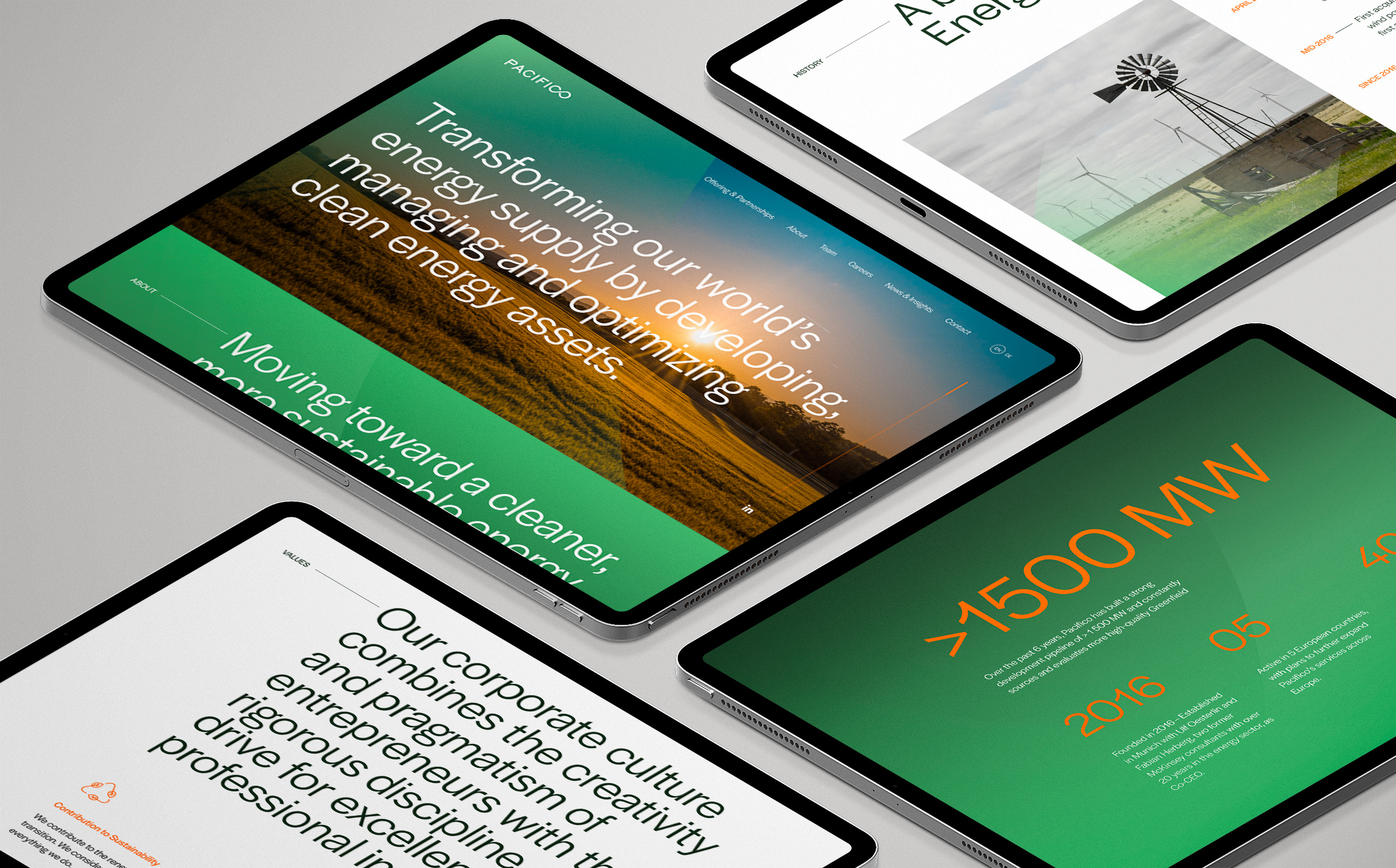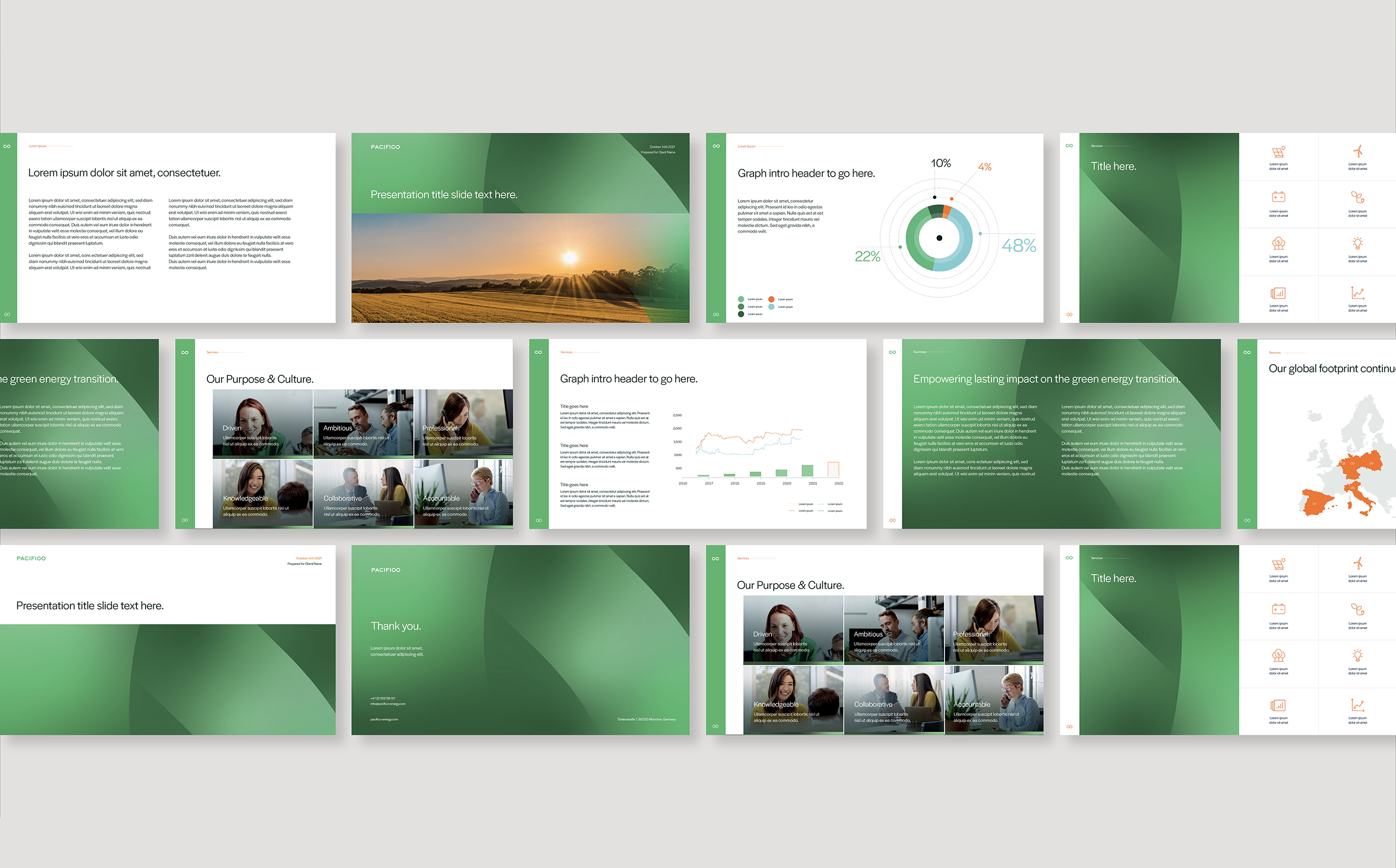 Digital Experience
The website's role was to portray a more mature, professional, dynamic & progressive business – one that had the foundation of 6-years experience, yet coupled with a driven & ambitious team.
Pacifico Energy Partners' innovative, diverse & passionate culture needed to shine through. Featuring the team, along with testimonials gave a glimpse into their personality & working environment.
Bringing structure to their new offerings was key – laying out clearly & concisely their services, whilst articulating the features & benefits along with strong call to actions.
To ensure a rewarding & engaging user experience, subtle animation was applied to the brand asset throughout the backgrounds, as well as hover states, counters & an interactive map.
Branded Merchandise
Although now established, Pacifico's need to attract & retain top level talent remains paramount to their continued success.
From onboarding, to events, to life outside of Pacifico – we created a suite of branded merchandise that elevated the brand to potential new recruits, whilst rewarding & supporting personal endeavours of existing employees.
This created a consistent & stylish brand experience for those inside & outside of the business – helping raise awareness of the brand to wider audiences.
We have highly appreciated working with the team at Fable&Co! Their ability to listen and truly understand what we do, and who we are as a business, was impressive and beyond our expectations. They really guided us through the process and made everyone on our team feel involved. We are extremely happy with the outcome as this will support Pacifico's way to become a leading renewable energy player in Europe. Thank you!