Research & Strategy
From the initial brand workshop, it was evident that Tquila had assembled a powerful collective of the world's most prolific industry experts that offered the perfect balance of attitude & aptitude.
Their inclusive & diverse culture aided a collaborative & productive working environment, allowing for creative solutions to often complex challenges.
Such challenges would revolve around an organisations existing infrastructure & digital operations which can involve a high volume of repetitive, onerous tasks & processes eating up much of the employees time, as well as limiting the potential of the business itself.
We discovered that an employee can easily spend 96 minutes a day on these mundane & onerous tasks, such as admin or data entry. That adds up to 480 minutes a week, or a staggering 416 hours a year.  
By harnessing intelligent automation, Tquila were able to take care of the tedious stuff & give back that precious time to clients so they can focus on the important tasks – reducing errors, boosting employee morale & better serving customers.
That's when we knew, it was all about "time"…
Brand Wordmarque & Icon
Fable&Co. created a modern, technical & robust wordmarque with angular forms that looked to capture the bespoke approach utilised for each unique client challenge.
The wordmarque featured a customised bold font, communicating technology & stability through its solid & uniformed structure. Close attention was paid to the detail falling on the angular cut off corners of the letters to mirror the same structure evident within the brand icon.
We also crafted an accompanying brand icon that featured three angular, stepped lines, demonstrating the impact Tquila can have – helping to catapult businesses to the next level of growth.
It also represents Tquila's ability to help clients on their automation journey through their end-to-end service offerings of advisory, delivery & managed services.
The Visual Identity
To represent the new strategy & concept of 'It's Time', we drew upon this narrative, crafting an identity that showcases efficiencies at its core.
We created three bold, custom symbols that had elements of the angular Tquila wordmarque & icon, each designed to reflect one of the three service offerings:
01. Think & Discover: a 'circle' to represent their holistic, consultative & strategic approach to every project.
02. Design & Build: a 'cross' to represent how they collaborate with clients to truly understand the business needs & opportunities, then designing & building the right solution.
03. Operate & Run: a 'plus' to represent how Tquila will maintain performance & help keep things running smoothly, scale as needed & achieve efficiencies.
These symbols were then weaved throughout brand imagery to metaphorically highlight the areas that intelligent automation can transform business processes & support, or even free, the human workforce.
The striking & impactful highlighter yellow introduced a breath of fresh air in the blue-soaked automation space, whilst representing speed, agility, efficiency & reliability.
Coupled with the greys & blacks to provide a sense of professionalism, sophistication & credibility.
The vibrant orange accent was a subtle nod to the original Tquila colour & acknowledged their unique relationship with UiPath.
The Online Experience
The new Tquila website would play a crucial role in generating new business leads across the globe. It was important to strike just the right balance of practical & effective, with beautiful & rewarding.
The notion of 'It's Time' would be evident throughout, with the use of the digital timers, world clocks & key messaging.
Subtle transitions & animations would create an engaging user experience, whilst thought-provoking stats & statements helped to reinforce Tquila's compelling proposition & encourage people to consider the time they spend themselves on repetitive, manual tasks.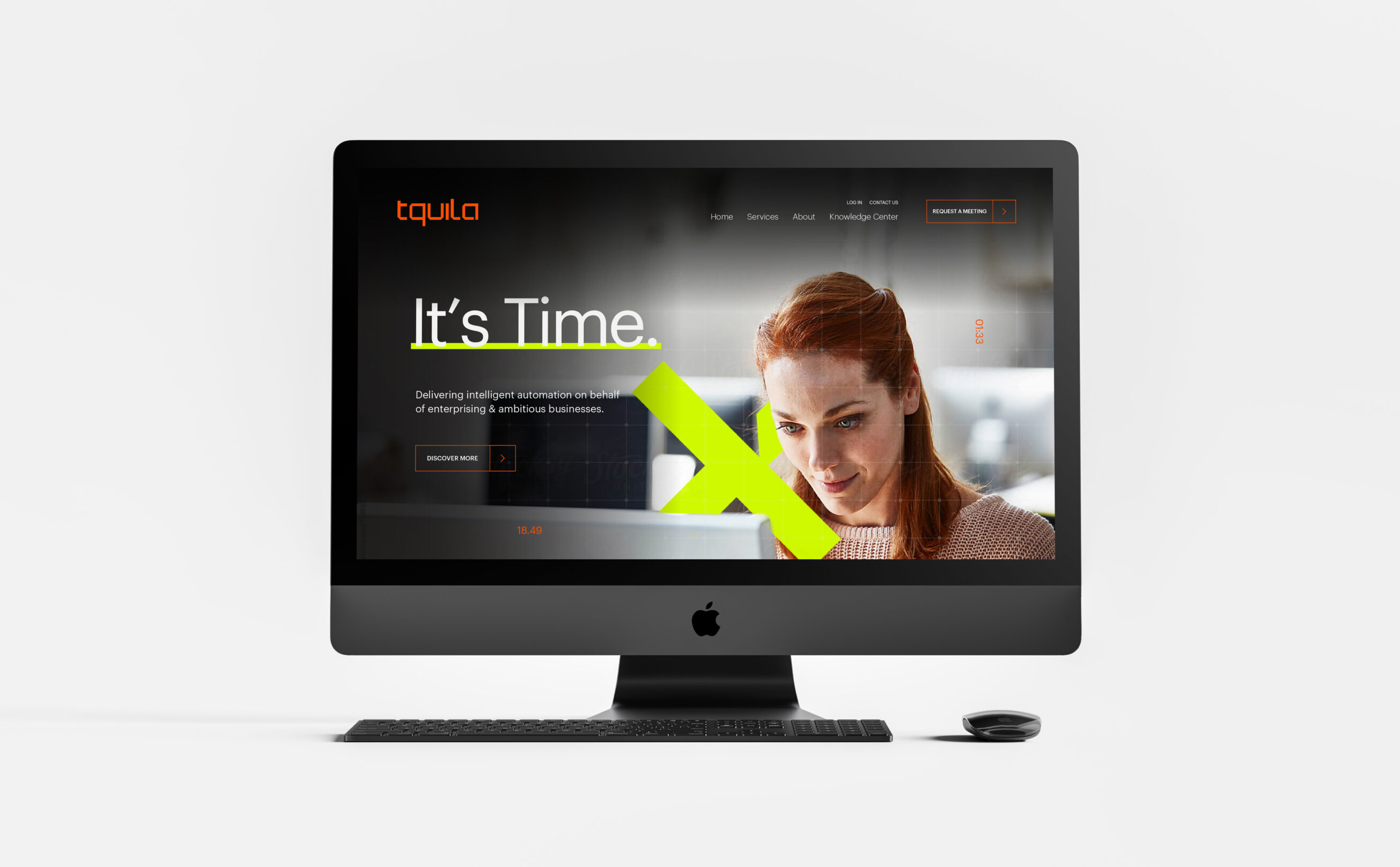 It's been a pleasure to work with Fable&Co. We selected them for our critical branding and website initiative because we sensed they would be all-in and fully committed to our success. They laid out a clear plan of how our work together would progress towards brand launch which helped us see a path forward against our aggressive timeline. Ross, Jack and team delved into understanding our company, space, ecosystem and vision – synthesizing a significant amount of input & information.
Brand Application
Formulating & articulating the striking new visual identity in a comprehensive set of brand guidelines was paramount to ensure consistency for all future deliverables.
The versatility & scaleability of the concept of "time" allowed us to visually represent how it could be used across things such as office graphics, marketing materials & corporate stationery.
There was an immediate requirement to create a suite of branded applications, including a corporate PowerPoint deck, social media templates & merchandise.
Fable&Co. helped us crystalize our vision, craft our strategic positioning, creatively define the brand and ultimately bring it to life in differentiated fashion. The results have been fantastic. Our new brand identity and website will be instrumental in conveying the value we deliver to clients and supporting our growth.