Where Capability Meets Culture
Tucker Stone are adept at understanding the nuances of different cultures & marrying with individual capabilities to identify the right person, for the right role, in the right company.
The increase of a globally connected workforce has led to a need for specialist search consultancies with a deep understanding of the local market & diverse cultures – being able to identify talent that add something special to the existing dynamic.
Alongside this, there's a growing expectation & requirement for businesses to foster a positive & inclusive culture – one that is conducive to a purposeful & high-performing business – only made possible by handpicking the best, most progressive & genuine talent in the marketplace.
Brand Proposition Statement
"Bringing together exceptional people that enhance company performance, drive positive change & inspire a culture of purpose & belonging."
Unearthing Hidden Gems
Tucker Stone's ability to identify & unearth special talent in unexpected places makes them an invaluable hiring partner.
The use of abstract gem imagery reflected just this, whilst also giving a sense of sophistication, refinement & quality.
The introduction of a soft colour palette of green, blue and grey pastels provide a feeling of calm, composure & approachability.
The Online Experience
It was vital the website portrayed the same sense of sophistication & excellence, but also demonstrated Tucker Stone's commitment to diversity & inclusion in the workplace.
Relaxed, natural imagery of the team at Tucker Stone give a sense of humanity & authenticity – ensuring people are able to gain an insight into their world & who they're working with, or potentially for.
The online experience is clean, minimal & rewarding – utilising plenty of clean space, subtle animations & transitions, as well as ensuring that finding & digesting relevant content is effortless.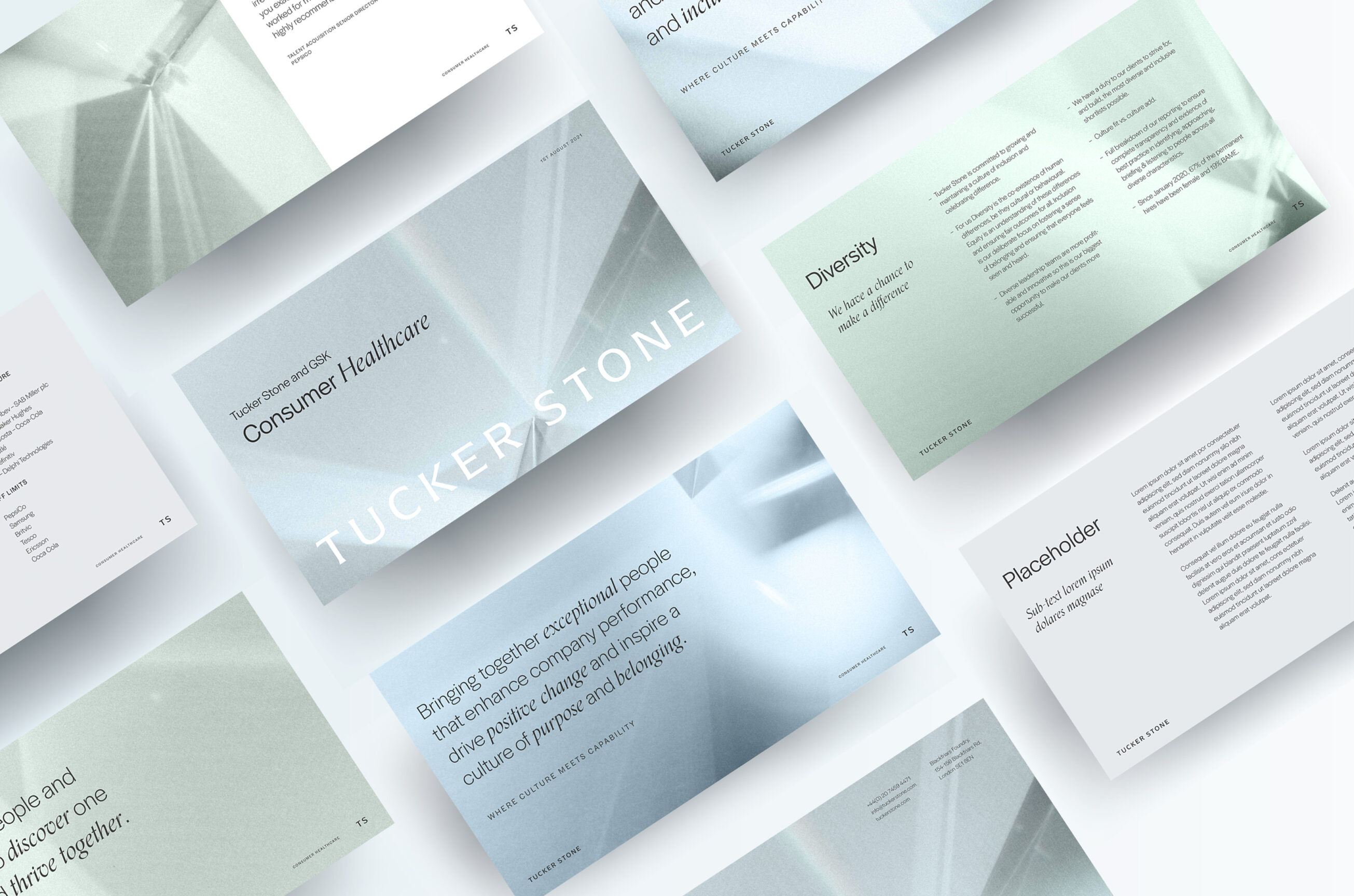 Having built up a solid brand and reputation over the last 12 years, a full Tucker Stone rebrand was an ominous, slightly scary proposition. Jack and the team took us through the process patiently and diligently, ensuring we understood the thinking and strategy behind their designs and concepts. They really got to grips with our identity and culture in their investigations and this led to an authentic, personal design concept. We are delighted with the result which hit our original brief of professionalising our brand, whilst maintaining the personal way we do business. The feedback from our clients and candidates has been incredibly positive.